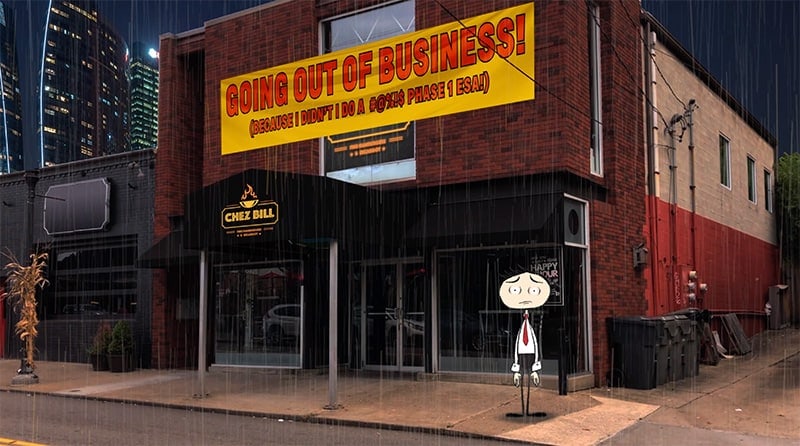 Enjoy our explainer video above - and LEARN from Bill's tragedy so you don't have to learn the hard way!
CALL us at 614-746-2695 before your next real estate investment!
Transcription below...
After years of working for "The Man", Bill decided to take a big risk.
No Bill, not THAT kind of risk.
Bill decided to quit his job, and start his own restaurant.
He found investors.
He borrowed money from his Mom and Dad.
He even cashed in his 401K…
…and bought a building in a great location, by a busy intersection, in a thriving part of town.
Bill invested his Money, Time, and Energy into remodeling the building and finally making his dream into a reality.
The building was finally ready, but the parking lot was still in pretty bad shape.
So bill used the last of his savings to pay for a contractor to come out and fix it.
Then the contractor found some old rusted pipes under the lot.
The pipes smelled bad and led to an underground tank.
It turns out that Bills building was once a Dry Cleaner.
The tank had to be removed.
And the Pipes.
And the Chemicals.
Which had seeped into the groundwater…
…where it flowed to a nearby pond…
…and contaminated local wildlife.
Bills insurance company politely declined to pay for the cleanup.
So did the previous owner.
And the Original Owners.
Bill owned the property, so bill owned the mess.
And the clean up cleaned Bill out.
His dream restaurant never even served a single meal.
And Bill had to go back to work for "The Man".
Bill should have called Phoenix Environmental before he signed the deed.
Whether you are starting your very own dream business, or just adding another property to your portfolio…
Call Phoenix Environmental before you buy, sell, build, or demo.
Phoenix Environmental helps you find the environmental risks before you spend a lot more than you bargained for.
Phoenix Environmental makes environmental due diligence easy to understand, and their national network of associates has decades of experience to assist you wherever you need them.
Providing strong local knowledge, reduced travel costs, and quick response.
Call Phoenix Environmental for your due diligence needs before you buy, and make sure your dream has a happily ever after.
Phoenix Environmental: We Find and Fix Environmental Problems!